Featuring Colin gold & The Original Fury's Tornados
Halfway To Paradise - The Billy Fury Story - a spectacular two hour show telling the story of BILLY FURY, Britain's legendary Rock n Roller, featuring the ORIGINAL MEMBERS of his band FURY'S TORNADOS and the golden voice of COLIN GOLD.
The band toured extensively with billy throughout the 70s, until his untimely death in 1983. The show includes giant screen footage of the band live onstage with Billy. Colin Gold's portrayal of Billy brings his music to life once more.
In the September/October edition of VINTAGE ROCK there was a 20 page Billy Fury special and it contained the following interview with Chris:-
By Julie Burns of Vintage Rock Magazine.
THE SOUND OF FURY'S STORY
As Fury's Tornados, they backed Billy in the precious last few years of his performing career. Today they're back on tour with the acclaimed show they created in his memory. Fury's Tornados' guitarist, Chris Raynor, recalls the band's unique time with the singer, still a big star in the '70s.
What was the general background to the band?
In Nottingham I'd already played in various bands with our drummer John (Raynor, no relation), and keyboardist Charlie (Elston). I'd also played the US bases in Germany – one night backing the Everly Brothers, which was a thrill. Billy first enlisted Charlie around 1970, replacing John Miles, after Georgie Fame and the Gamblers. Billy grew to trust Charlie's judgement, and as his previous musicians left, Charlie recruited John to play the drums and then myself, to play guitar. We became Billy's three-piece around 1971/2. In addition, Billy's manager Hal Carter ran these rock 'n' roll theatre tours featuring the likes of Tommy Bruce and (original Tornado) Heinz, and we'd be the house band. We even did a remake of the Tornado's "Telstar" in 1974 produced by Billy, sadly not a chart hit. After three years playing with Billy, Marty Wilde asked us to join him; then after about five months Billy asked for us back! Bass guitarist Graham (Wyvill) joined our latest show line-up in 2004. We're all glad with the way things turned out… had the Beatles become Billy's band back in the day, things could have been very different!
Chris, third from left, whilst appearing with The Everly Brothers in Germany.
What were your first impressions of Billy?
I hadn't known him in the '60s, though my sister was a big fan. Schooling myself in how to play rock 'n' roll, I bought "That's Love" for its rockabilly guitar riff. Hearing Billy on record, I considered his voice pleasant. When I first worked with him, his sheer vocal power surprised me. We had no monitors back then, just two old, open-backed Marshall speakers out front. I had a 100 watt amp, and Billy had to really project his voice – but strictly favoured this system over using more modern club PAs. I never heard him sing one syllable out of key. A bit of a mix in personality, he was savvy, yet still very shy; it would take him time to get to know you. He had a mischievous sense of humour, a childlike side, even – he'd take us out to funfairs, or to the beach in his latest toy – an early Range Rover.
Fury's Tornados with Billy.
What was his later image like?
I first met him in 1971, and actually thought 'that's not fair': he was so handsome, very distinct. Aged 31, he was several years older than the rest of us, and still one of Britain's best looking pop stars. His early look with the Elvis style quiff had gone; in fact, he had a short combed forward hair style and wore more conservative stage clothes than we did … Unlike us, Billy never wore a silver and purple glitter catsuit from Carnaby Street with 30-inch flares and platform boots! He'd tastefully default to his charcoal grey leather Portobello Road trousers worn with shirt knotted at the waist, plus more subtle footwear – at a lean 6ft he didn't need the height!
Billy in his leather trousers and shirt knotted at the waist.
What sort of venues were you playing?
Gigs were a bit of a mixture. Looking back, as a big star from 1961 onwards, it must have been very humbling for Billy to play the cabaret circuit – but by the '70s, that's where the money was, and where many stars (such as Tom Jones and Neil Sedaka) went. It was a different era in music. Our schedule would be one week on, one week off, to allow Billy to rest. Often we'd do 'doubles' – a first gig at some social or working men's club, then travel 20 or 30 miles to set up again for a late nightclub spot. From one-nighters to week long residencies, up to 14 shows a week sometimes: little places in Wales to the 2000 capacity Stockton Fiesta, and London clubs – one time where his pal Keith Moon, all mad eyes, turned up and casually asked Charlie could he play the drums, which he did. What a shame it wasn't recorded! Just before we joined, Billy had been on a big Wembley rock 'n' roll revival show appearing alongside Little Richard, Bill Haley, Jerry Lee, Chuck Berry. Not long after, he made That'll Be the Day, coming to play our shows after a day's filming with Ringo Starr - also a scouser from Dingle - who he knocked about with for a while. Unless we teased him with 'How many takes today, Billy?' – he didn't even mention the film. He never thought of himself as an actor. He'd had 29 hit records, and still sold out gigs everywhere he went, yet never played the star.
He remained a working-class boy with no side.
Chris accompanies Billy at Leicester's De Montfort Hall in 1974.
Were your '70s shows pure rock 'n' roll revival or did you put a twist on Billy's original material?
As a band in our very early 20s, we went with the times, and liked to put a little spin on things. At heart I was into rock 'n' roll, whereas John and Charlie, both younger than me, were more Beatles oriented. Billy chose the tempo – he wanted it harder and faster than his original records - so we amped up the attitude.My guitar would be more vibrant, John's drumming more Ringo rock beat than '60s Clem Cattini. Our usual set would be only half of Billy's hits, as he liked to do other peoples'. A typical setlist would open with Chuck Berry's "Sweet Little Sixteen", Billy's "In Thoughts Of You", Elvis's "That's All Right Mama", Billy's "Halfway to Paradise" - onstage with adrenaline going, played at a gallop - and "I'll Never Find Another You", Ray Charles' "Unchain My Heart", and Little Walter's "My Babe", mixed in with our guitar and Hammond solos. He'd finish with "It's Only Make Believe" and encore with "Jealousy". Billy chose his own songs because they were crowd-pleasers, rather than his true favourites.
What was the audience reaction like?
Hanging from the rafters exuberant! You would never believe it was past his heyday. We did the longest 'play-offs' in history, 'round the house' riffs to allow him to take a bow – and make a quick getaway. It was difficult for him to do a full 45 minutes, so the car engine would be revving and he'd side exit soon as, still in his stage clothes. Reason being, the audience would be heaving, fans clamouring and banging on the dressing room door, after him. As a nervous performer, he couldn't handle it. He couldn't have stayed to sign autographs, he'd always have aggravation. Mothers – his original fans – as well as their daughters, would go mad for him. Even in the '70s, blokes would get upset over their wives' and girlfriends' responses to him.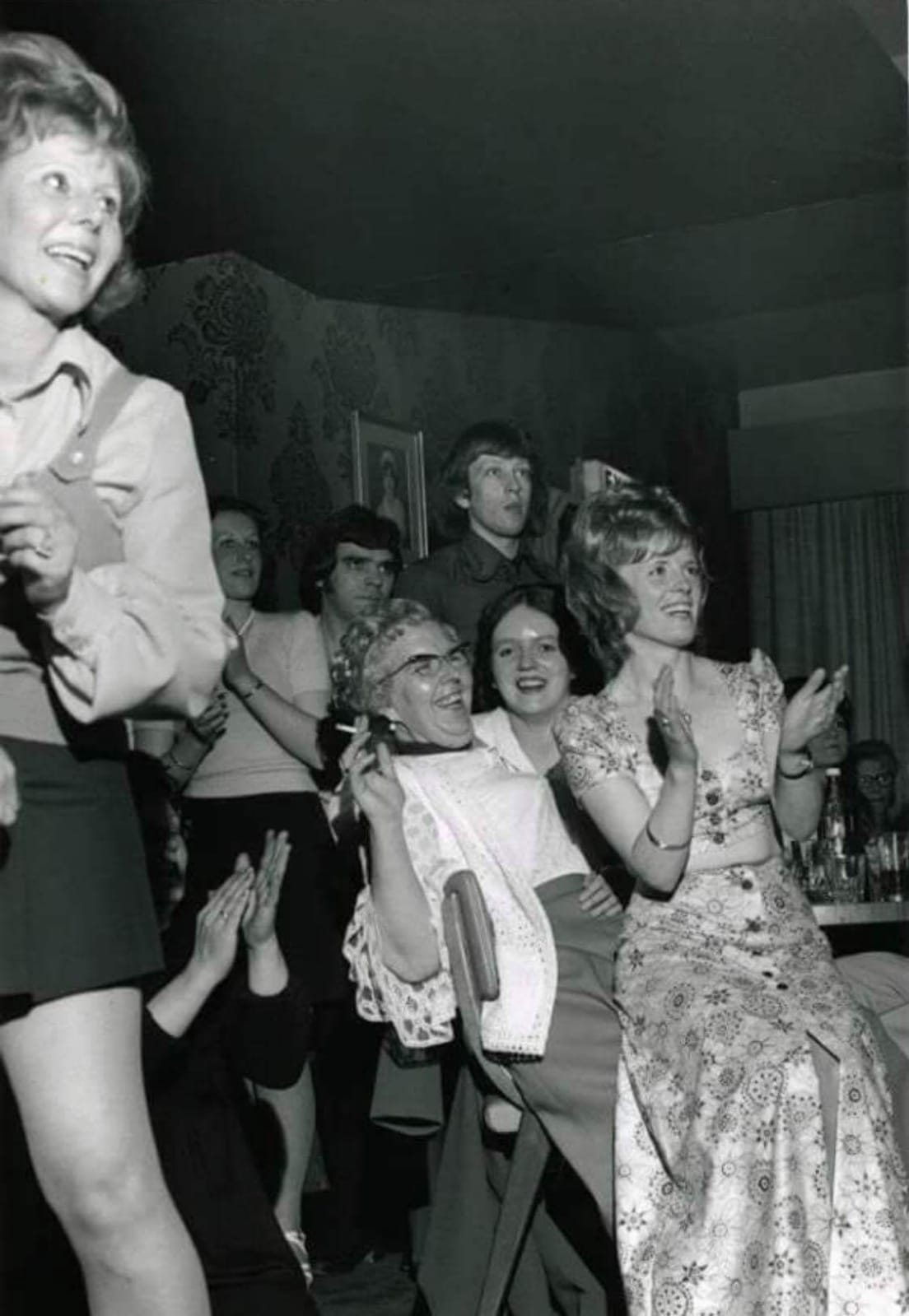 These ladies were really enjoying this Billy Fury show in the 1970s, but the men appear to have a different opinion!
John said he realised Billy's impact, one night at Nottingham's Hucknall Miners' Welfare Club. We were in one dressing room, Billy in the other, a corridor inbetween. To get to Billy after the show, John had to step over all these bodies – fainting girls attended by St John's Ambulance – to do so. Billy's dressing room appeared empty, then John saw this head out the window – there was Billy grinning, having made his escape, and going down this three-storey wall like Spiderman!
Another time at the Stockton Fiesta, during Billy's intro, these girls charged the stage, the drumkit crashed, Charlie was tipped up behind his Hammond, the curtain slammed down, Billy ran for his life. Three times we tried it, the same happened. Management got fifteen bouncers to link arms round the stage and warned if it happened again, Billy would not be appearing. Fourth attempt, we played but management was then always put on standby. Billy laughed it off but it made him uncomfortable.
One time he did stay behind after a gig was at The Lifeboat Hotel in Cleethorpes, to watch a band play the cellar bar. They asked him for a song, so me and Billy did an impromptu "Rave On" by Buddy Holly. A memorable night. Despite appearances, being onstage was quite tortuous for him. He never felt at ease with audiences en masse. I think he'd have much sooner been on the farm in Wales with his animals and girlfriend Lisa. He never came along without Lisa; she organised him – from driving him there and back, to getting his scampi and chips at the bar before he performed, and fending off some of the females as needed!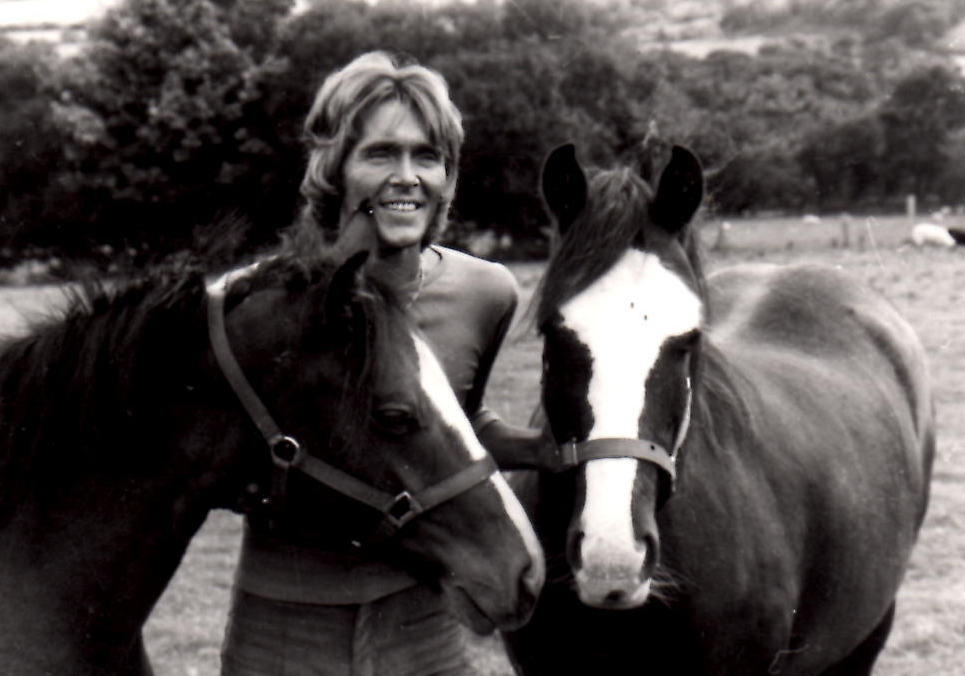 Billy was always more at ease on his farm in Wales.
How did Billy's health affect your working lives?
I can honestly say that I never actually saw Billy unwell. People assume because he was ill, that he was down or depressed – we never saw that. Equally we didn't do drugs, and I never saw Billy take any. He would keep me up all night though, over one or two pints…he was a nightowl, then get up at midday. We didn't sit reminiscing, he didn't talk about the past much. Overall, he wore his illness well, was the strong and silent type, and came alive when he performed. Doing a theatre tour, you'd see a different side to him – he'd really pull out all the stops - with some marvellous, unique moves!
Presumably, touring abroad was out due to his health… though in '62, he'd famously gone to Hollywood to meet Elvis?
We were once offered a residency in Tenerife which Billy referred to as 'a tenner each' but it didn't come off. As massive a star in the UK that Billy was, he wasn't that well known abroad. As well as presenting Elvis Presley with discs, the trip was partially organised to get Billy to meet the right people – though the momentum was soon gone due to his health. Yet as much an influence as Elvis was – the crest of a wave for his generation –Billy's real love was black R&B, the driver behind rock 'n' roll.
Billy presenting Elvis with framed silver discs for British sales of "Now Or Never" and "Rock-A-Hula Baby."
When was the last time you met?
Due to ill health, Billy stopped touring in '76, and not long after, had his (second) open heart surgery. That was the last time we saw Billy, at his house opposite Paul McCartney's, in St Johns Wood, London. He'd had a lot of morphine and was out of it. He had the best surgeons but back then, medicine hadn't progressed like it has now. In comparison, '60s singer Gerry Marsden had a triple bypass (in 2003) and went back to work. A heart condition's no longer life threatening but was then for poor Billy. Later in '82, the year before he died, he rang all of us to try and get the band on the road again. He had a Polydor deal and had already done the recording but wanted us to play and promote it with him. We were really excited, then twenty minutes later, his girlfriend Lisa called to say, 'Billy isn't as well as he thinks he is'. I had a premonition he died onstage, which was chilling. I said to the others we should make some excuse not to tour, in the hope of not making him ill. Two weeks later, he died. We were all gutted. It wasn't like 'we used to play for that guy,' it was like our friend had gone.
How do you view Billy's musical legacy?
Despite his UK fan-base, as with Cliff Richard, I find it sad that someone as important in the jigsaw of British rock 'n' roll seems so overlooked. Youngsters know the likes of Elvis and Abba but not really Billy…As for radio airplay, where is he? When we started our latest show in 1996, he was the most requested artist on Saga radio. It's annoying that such as Smooth FM plays Lionel Ritchie over and over, but no Billy. Also, I thought the recent screen documentary was all right, but didn't portray what a really cool rocker he was. Billy was truly unique. As a performer, he had an aura. As a person, he was a lovely soul. In short, he was exceptional. That's why we created Halfway to Paradise - to remember him through his music.
Colin Gold and Fury's Tornados performing Billy's music.
How did you develop the Halfway to Paradise show?
In our own band, 1980s onwards, me and John regularly included a Billy tribute medley. It went down so well, my wife Maureen suggested we should do more with it. A few months along, we had a lightbulb moment. Our mutual friend had taped ITV show Stars In Their Eyes with this guy Colin Gold, singing "Halfway to Paradise" pretty well. On the strength of it, I phoned Granada TV for Colin's contact. After putting the phone down on me twice thinking it was a joke, he agreed to audition. I got him to sing the difficult tone and a half range Jealousy. He nailed it. We formulated an early version of the show, as a three-piece with a sequencer for keyboards. Two years later, Charlie came on board. Luckily, his father had previously taken cine film of us onstage with Billy, so we had priceless archive footage to boot. It all fell into place. Meant as a special one-off, 22 years on, we're still going strong. We learned and re-learned all of Billy's original hits plus his earlier, more forgotten stuff. We're faithful to the recordings but still play slightly uptempo the way Billy wanted them. If he were alive today, he would be able to step up and play straight away. We like to think he's up there watching, and approves.
ON WITH THE SHOW…
A tribute show in a much more authentic sense Halfway to Paradise, The Billy Fury Story, is a unique and spirited salute to the much-loved singer. In a full-on musical showcase, over two hours the sound of Fury's Tornados packs in live all 29 of Billy's solid senders, including Colette, I Will, Jealousy, In Thoughts of You, Halfway to Paradise, Wondrous Place, Gonna Type a Letter to You, It's Only Make Believe, In Summer, Do You Really Love Me Too? All delivered with fond and expert flair by the guys who actually knew and latterly played with him. No-one can replace Billy of course, so luckily Colin Gold's close vocals and seamless performance are respectfully reminiscent of our idol, minus any over the top impersonation. In addition, there's an evocative audio-visual segment chronicling Billy's modest upbringing to meteoric rise to fame, introduced by his last girlfriend, Lisa Voice. Most atmospheric moment has to be when the band accompany Billy shown singing on-screen. A show's only as good as the audience it attracts… notably Cliff Richard, Marty Wilde and Vince Eager are amongst Billy's musical peers to have sung its praise. Not forgetting Billy's beloved family: his late brother Albert and mother Jean – who gave her blessing to the production - and reportedly enjoyed seeing the show twice.
For forthcoming tour info, please see TOUR DATES





Halfway To Paradise
Billy Fury was Britain's own Elvis.With looks like James Dean -he was Sex on legs....& the girls went wild for him!
Billy's own band, the all original FURYS TORNADOS, re-play live his 29 timeless hits, Last Night Was Made For Love, Wondrous Place, I Will,Jealousy, Halfway To Paradise & many more. With Billy being there too on giant movie screen,
the atmosphere is both electric & emotional.
With the sensational Colin Gold as Fury."A voice blessed by heaven" - Brian Matthew Introduced onscreen by Lisa Voice [Billy's long time partner.
"Rock 'n' Roll Heaven - A great 60's night out!" -The Stage.